From: jafrikayiti@hotmail.com
To: davidsonv@jamaicaobserver.com; editorial@jamaicaobserver.com
Subject: White Supremacist Activities in Haiti
Date: Sat, 7 Feb 2004 21:19:37 +0000

Dear Editors,
I have been encouraged by your latest articles from Mr. Maxwell. Having just returned from a month and a half vacation in my homeland (December 17 to January 28), I take this opportunity to send you this urgent article for publication. ...
Are You Unknowingly Financing White Supremacist Activities in Haiti?

by Jafrikayiti (Jean Saint-Vil)
(An Open Letter to: President Thabo M'Beki, Nelson Mandela, Bill Cosby, Danny Glover, General Romero Dallaire, Congresswoman Maxine Waters, Noam Chomsky, Ron Daniels, Johnny Cochrane, Jaggi Singh, Runoko Rashidi, Spike Lee, Ossie Davis, Randall Robinson, Louis Farrakhan, Tavis Smiley, Molefi Kete Asante, Charles Rangels, Maya Angelou, Kendall Clark, Oprah Winfrey, Mario van Peebles, Jonathan Demme, Dick Gregory, Alfre Woodard, Harry Bellafonte, Paul Farmer, and all people of conscience struggling for a peaceful and just world.)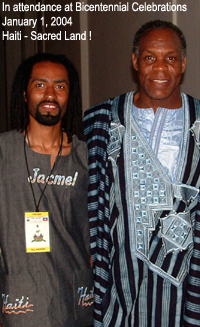 « The most determined of these men, with a promise of anonymity, freely express their desire to see the U.S. military intervene once again, this time to get rid of Aristide and rebuild the disbanded Haitian army. "That would be the cleanest solution," said one opposition party leader. Failing that, they say, the CIA should train and equip Haitian officers exiled in the neighboring Dominican Republic so they could stage a comeback themselves.» Haiti Torn by Hope and Hatred As Aristide Returns to Power by Edward Cody (Washington Post, February 2, 2001 – 5 days before Aristide was to swear in as President of Haiti)
Dear brothers and sisters:
As you know, the Republic of Haiti stands in the Caribbean as a beacon of justice where racial slavery was valiantly fought and ended in 1803. It is a nation created by formerly enslaved Africans who broke their yoke by defeating the most violent and powerful European armies of the 18th century, including that of Napoleon Bonaparte. This unprecedented and earth-shattering historical fact remains a sort of world's best kept secret which will likely not make it to PBS, A&E or the History Channel any time soon or until brother Danny Glover manages to fulfill his lifetime dream.
Now, what does this have to do with your funds being used for white supremacist terrorism in this, the year 2004?
I know that it may surprise and shock some of you to learn that your tax dollars are currently being used in a multi-national white supremacist offensive against Haitians. So, before you jump off of your seats in horror or disbelief, let us consider some outrageous facts together.
1. For the past 2 years, governments of Europe and North-America that have imposed a financial embargo against Haiti - kept summoning the Haitian president to send police forces out to disarm pro-government activists in Gonaïves (Haiti's fourth largest city), a move feared to hold the deadly potential of igniting uncontrollable bloodshed nation-wide. Then came, in  2003, the spectacular assassination of Amyot Metayer, a popular organization leader of that city who sometimes claimed to be pro-Aristide and at other times claimed allegiance to the opposition that has been calling for the president's outster. Since then, a state of general confusion and unrest has been developing.
Today, February 7, 2004, Jean Pierre (Tatoune), a convicted criminal reportedly a CIA agent, known to have worked for the bloody army regimes of the late 1980s, who escaped from prison the same day as Amyot Métayer, is terrorizing the people of Gonaives.
Tatoune, now an uncontested opposition 'leader' has led a mob on a rampage of killing and burning which so far has left 11 dead and numerous others wounded.  History teaches us that in August 1883, in response to popular riots breaking in the capital city of Port-au-Prince, diplomatic representatives of France, Britain, Germany, Belgium, Spain, Holland, Norway and Sweden promptly signed an ultimatum threatening Haitian President Lysius Féllicité Salomon of bombarding Haiti's National Palace. Likewise, the 1915 U.S. invasion of haiti was conducted under the cover of 'popular riots'. Today, February 7, 2004, we await the responses of the U.S., French, Canadian and other embassies in Port-au-Prince.
Please consult the following reports:
Torturing Democracy: An interview with Noam Chomsky on Haiti
by Faiz Ahmad and Noam Chomsky, January 25, 2003
http://www.zmag.org/content/showarticle.cfm?SectionID=36&ItemID=2911
WHAT'S NEXT FOR HAITI? Continuing on the Path of Democracy
Published by HAITI ACTION COMMITTEE, Bay Area, California, Dec 16, 2002
2. It is reported that, fully aware of the dangerous and volatile situation developing in Haiti, the French embassy in Port-au-Prince has recently lend white south-African body guards to march with white minority opposition champion, sweatshop owner Andy Apaid, as he took his political campaign's caravan on the road to intimidate the poorest of the poor in the impoverished neighbourhood of Cité Soleil. Furthermore, in late 2003, the muddy trail of European Union and right-wing U.S. financial backing for Haiti's radical right was finally made public by the London-based Haiti Support Group. Please see: http://haitisupport.gn.apc.org. These facts make one wonder whether it was Jean-Marie Le Pen who actually won the last French elections. Please see also photos and texts at: www.haiti-progres.com. It is worth noting that since the Haitian Head of State made a formal demand on April 7, 2003 that France returns to Haiti the $21 billion Francs ransom it collected from her, things have been turning from bad to worst between the former Napoleonic slave-State and the sons and daughters of Jean-Jacques Dessalines.
3. The fingerprints of lifelong white supremacists like U.S. Senator Jesse Helms can be found all over in contemporary political unrests bedevilling Haiti. The latest form taken by this well financed and organized offensive is the IRI (International Republican Institute) which has taken upon itself to finance and train a violent opposition force in Haiti.
Please see the following reports.
Armed opposition now part of a new strategy, Haiti Briefing No. 50 - September 2003, Haiti Support Group
, http://haitisupport.gn.apc.org
The racist underbelly of the U.S. occupation of Haiti By Stan Goff, Haiti Progres, This Week in Haiti, Vol. 17, no. 30, 13-19 October 1999
http://www.haiti-progres.com/ (english) - SHOCKING !!!
The Role Of The United States In The Fate Of Haiti by Nirit Ben-Ari & OPERATION RESTORE DEMOCRACY: Humanitarian Intervention Or U.S. Imperialism? An essay by Brendan Sexton
(A SET OF VERY STRONG ANALYSES!!!)
4. In March 2003, Canadian press leaked information about a secret meeting held in Ottawa, during which European and North-American powers were actively planning the take over of Haiti before January 1, 2004, anniversary of the successful anti-slavery revolution. Please see reports from l'Actualité, March 15, 2003, (www.lactualite.com).
These and many others which we could cite are just too many 'coincidences' pointing to white supremacist activities in contemporary Haitian politics.  
The government of President Aristide has been so messed up now, that it obviously lacks the necessary backbone to deal with this wicked situation. In particular, President Aristide must know that he'll be promptly accused of 'playing the race card' or of 'blaming the white man' for all his problems. However, the urgency of the situation does not permit us to fall for such old, simplistic and tired imperialist tricks.
If President Aristide is willing to let them murder him like they did Patrice Lumumba and to have the truth slowly squeeze out only in 2054, as is tradition for the assassination of popular black leaders, that's his prerogative. But, we, civilized homo sapiens who are struggling for a just and racism-free world, cannot afford to watch idle while the stage is being set for yet another Rwanda-style genocide, where, once again, the cut-to-pieces bodies lying on the ground shall share the same skin tone, one that's darker than those of the lucky few who shall certainly be safely flown away in the helicopters come to rescue 'western citizens'. Déjà vu, too many times before!
Haiti, a nation besieged for 200 years
While one computes this disturbing information with reports of a U.S. Official declaring that 'Haitians lack a chromosome' or a U.S Ambassador warning Bahamians about the Haitian menace to their culture, or a German diplomat cursing all Haitian women calling them 'sex-obsessed' beings, or a departing French ambassador prophesizing at the end of 2003 that the storm he sees coming Haiti's way is of the worst kind,  it is essential to check the historical records in order to comprehend the roots and nature of so much hatred being consistently exhibited towards this impoverished but still so combative African people of the American continent.
As I described in an article titled "Time to Stop Resisting Haiti's Resistance", published last year, white supremacist interventions against Haiti are well documented facts of history. They leave, for all honest eyes and minds to contemplate, a rather long trail of shame.
But,
one may wonder what it is that links the few European-rooted family gangs that control the Haitian economy with Helms, Bush, Chirac et al.?
Please take a look at one of their main websites: www.moun.com and you may be surprised to see how many more clues you shall be able to quickly identify on your own.
As law-abiding tax payers, we are all encouraged to join the non-violent struggle of the Haitian people once we have fully understood why, "in the name of all Americans", in the name of all Canadians, in the name of all Europeans, the governments of the U.S.A, Canada, and Europe are following against Haiti, as Tracy Kidder puts it in his August 7, 2002 Washington Post article, "a policy that is not merely hypocritical but murderous"; and, if I might add, a despicably racist and outrageously backward policy at that.
Brother, sister, on the very eve of January 1, 2004 as freedom-loving people from all over the globe were making the pilgrimage to Haiti, site of the first abolition of white supremacist slavery by an independent nation of the American continent,
I and four other people who were standing with me in the lobby of Hotel Montana in Port-au-Prince were flabbergasted to hear the second-in command at the OAS (Organization of American States), Mr. Luigi Einaudi, tell us point blank and without any shame or hesitation that "The real problem with Haiti is that the 'international community' is so screwed-up and divided that Haitians are running Haiti".
When a racist and segregationist U.S. Administration invaded Haiti in 1915 to rape her national reserves, black intellectuals like James Weldon-Johnson stood in solidarity with Haitians. In 2004, it is encouraging to see brothers like His Excellency President Thabo M'Beki, Danny Glover, Randall Robinson, Ron Daniels and sisters like her Excellency Congresswoman Maxine Waters stand in solidarity with Haiti's people.
However, the forces planning this forced genocide in Haiti, are even more powerful, organized and deceitful than they were in 1915
. PEOPLE OF CONSCIENCE, WE MUST ALL STAND NOW IN SOLIDARITY WITH HAITI FOR, THE RWANDAN TRAGEDY MUST NOT BE ALLOWED TO HAPPEN TWICE IN OUR GENERATION !
Jafrikayiti
"Depi nan Ginen bon Nèg ape de Nèg" (Brotherhood is as ancient as the Motherland)
www.jafrikayiti.com
Dernière édition par jafrikayiti le Jeu 23 Jan 2014 - 20:15, édité 1 fois